Feeling like ditching the ocean and enjoying the freedom & amenities of a vacation rental instead of going to a hotel. It is time to think about taking a lake vacation for your next trip. No matter your budget, there is a lake cabin waiting by the water. Our best picks are listed down for lake house rentals.
If you dream of a tranquil vacation, there is no better place than staying at a breathtaking vacation rental. You are just a few steps away from a lake where you can fully relax and wind down the hustle-bustle of the city.
A vacation rental is not like a hotel or an inn, but it's typically a regular home or an apartment. So, when you are staying in a vacation rental, you can live like a local and get access to things that you would normally not be able to get if you were at a hotel, like cooking facilities.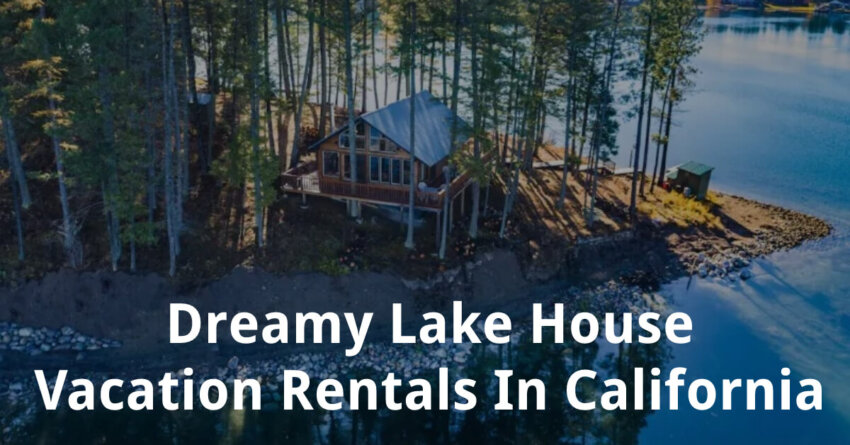 Read more to know different places you can stay by knowing Vacation Rental Apps.
Lakefront Best House at Shasta Retreat, Lakehead
Shasta Lakeshore Retreat has an entire lake with a breathtaking view of the mountain and wildlife. The retreat has a seasonal creek with a boat ramp next to the room. You can get a room with high wood beam ceilings, a hot tub BBQ, and a fire pit where you can fully relax.
Eagle Lake Home with Lake Views & Trail Access, Susanville
You can pack for a trip full of adventure where you can have a private community. It is extremely close to hiking and mountain trails where you can spend a whole day packed with fun. Get your friends and family to this beautiful place for the ultimate relaxing time. There are tons of activities you can use if you are near hiking & mountain trails.
Sunset Lake on the Water, Indio/Coachella
Sunset lake villa, a lakeside home, is a short drive from Coachella, known for its beautiful and serene outdoors. You will find that Sunset Lakeside villa has lake and mountain views, outdoor electrical for shade, outdoor misting, lounge chairs, gas bbq, etc. You can drive up to palm springs and enjoy the hot water showers and golfing club. The sunset is a sight here that cannot be missed. You can golf, dine, and enjoy the world-class entertainment of the resorts here at Sunset lakeside. Also, visiting this lakehouse during Coachella will be exciting and full of adventures.
Lake Tulloch South Shore Lake Front House, Jamestown
The beautiful lakefront house is full of hearty activities that you can enjoy with your friends and family. Jamestown's lakefront home has a fire pit, chairs, and lakeside view, which is highly overwhelming during sunset.
Mountain Location Lake House, Descanso
If you are looking for a way to escape the city and head to a quality mountain retreat, then the mountain location lake house is for you. You can soak up the earth by looking at trees and large glass windows and enjoy nature. Take pictures filled with memory and sleep till your heart desires as vacation is for spending your time and how you want it. The place is filled with Instagram-worthy views, enormous mountains, and fresh air!
Lake Front House with Private Dock & Views, Jamestown
Have a look around the panoramic views of Lake Tulloch. It has swimming, wine and dining options, horseback riding, and hiking which you can fully enjoy. It is located in the middle of Sonora and Oakdale, filled with life's necessities to drive your passion for life again. It has a great sense of privacy as there is an individual private driveway for every home.
Beautiful Lakefront Cabin on Clear Lake, Lower Lake
Taking time out for your family and your romantic partner is essential. You can make time by spending some quality time here at the beautiful lakefront cabin. You can enjoy clear and world-class fishing tours which happen here all year round. Book a room with intelligent TVs and relax inside the cabin, where you feel comfortable and serene.
Panoramic Lake View – Few Steps Away from the Water, Crestline
The decorated cabin has four car parking with a queen bed and bathroom. There are primary living quarters for people who have difficulty climbing stairs. You can enjoy natural gas BBq, outdoor areas, and dining spaces.
Lakefront House Near Yosemite, Groveland
Lakehouse in Yosemite, Groveland, is ideal for a perfect outing where you can relax and recharge. You can take a full day with your romantic partner and enjoy the lake at Lake Maine Marina, and being near the lake invokes feelings of love for your partner. Make sure to spend a weekend full of exciting adventures with your loved one and dine in front of the lake to end it on a good note.
Conclusion
These houses of lakes are ideal for outdoor relaxation and recharge, which we tend to miss out on while living in the city. We often get so crowded with our thoughts and anxious about the city's traffic that we forget that living in nature is how we should rejuvenate our souls and minds. Download Vacation Rental Apps and book a stay with your family to create memories that you will cherish forever!