Have you ever needed to seal, cushion, or protect surfaces in your everyday projects or maintenance tasks? If so, rubber strips might be the solution for you. With numerous types and applications, rubber strips are incredibly versatile and practical in various industries. In this article, we will explore the world of rubber strips and guide you through choosing the right product suitable for your needs. We will cover the properties of different rubber types, the option of adhesive backings, and the various applications of rubber strips.
Rubber Strip Basics
A rubber strip is a long, thin piece of rubber that comes in various types, widths, thicknesses, and lengths. It can be used for a wide range of applications, like sealing gaps, providing padding, and insulating electrical components. By understanding the properties of various rubber types and identifying the specific requirements of your project, you can select the best rubber strip that meets your needs.
Types of Rubber and Their Properties
There are many types of rubber available, each with its unique properties and characteristics. Here, we discuss the most used rubbers found in rubber strips.
Natural Rubber (NR)
Derived from the sap of rubber trees, natural rubber exhibits excellent elasticity, high tensile strength, and outstanding resistance to abrasion. It provides exceptional adhesion to metal surfaces and performs remarkably in low-temperature applications. However, natural rubber lacks resistance to oil, grease, and solvents. It is commonly used in sealing applications and vibration-isolation pads.
Neoprene Rubber (CR)
Neoprene is a synthetic rubber with superior resistance to weathering, ozone, and ultraviolet light. It is also resistant to petroleum-based fluids, making it suitable for outdoor and industrial applications. Neoprene can withstand a broad range of temperatures and has excellent flame resistance. Neoprene rubber strips are often used for sealing, gasketing, and insulating applications.
Nitrile Rubber (NBR)
Nitrile rubber, also known as Buna-N, is a synthetic rubber with excellent resistance to oil, gasoline, and other petroleum-based products. It has good mechanical properties, including high tensile strength and excellent abrasion resistance. Nitrile rubber strips are commonly used in automotive, aerospace, and industrial applications where exposure to harsh chemicals is likely.
EPDM Rubber (EPDM)
Ethylene Propylene Diene Monomer (EPDM) is a synthetic rubber known for its excellent weather resistance, making it ideal for outdoor applications. It is also resistant to ozone, sunlight, and temperature extremes. Although it has poor resistance to petroleum-based fluids, it resists steam, water, acids, and alkaline chemicals. EPDM rubber strips are often employed in sealing, roofing, and automotive applications.
Silicone Rubber (SR)
Silicone rubber is a high-performance, synthetic elastomer that possesses excellent resistance to extreme temperatures, UV light, and ozone. It is also resistant to fungal growth, making it ideal for applications in the food and medical industries. However, silicone has poor resistance to petroleum-based fluids and is not ideal for heavy-duty, high-impact applications. Silicone rubber strips are commonly used in the electronics, food, and healthcare industries.
Rubber Strip Thickness and Width
Selecting the correct thickness and width for your rubber strip is crucial for optimal performance. Thicknesses generally range from 1/64 to 1 inch, while widths are commonly found between 1/4 to 12 inches. The specific requirements of your application, the materials you need to join, and the amount of cushioning or sealing you need will determine the appropriate size for your rubber strip.
Adhesive Backing Options
Some rubber strips come with adhesive backing, making them easy to apply and replace. Adhesive-backed rubber strips are ideal for temporary installations, like weather stripping or cushioning, where an adhesive bond may need to be regularly replaced. However, if you require a more permanent solution, consider mechanically fastening your rubber strip or using an additional adhesive.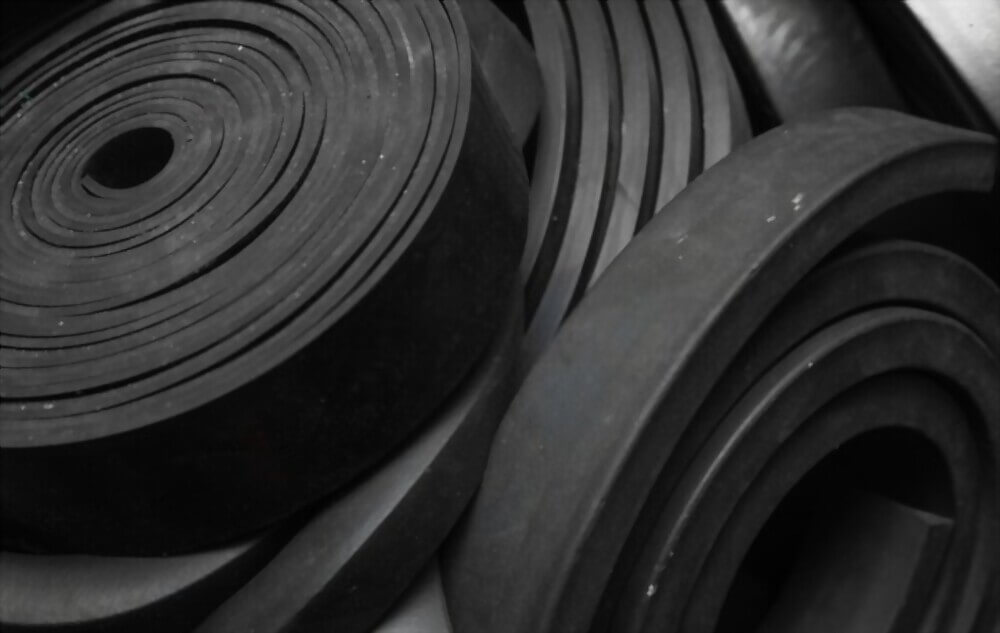 Common Applications of Rubber Strips
Rubber strips are advantageous in various applications across different industries. Some common uses include:
Sealing gaps and spaces to block air, water, or light
Providing padding and protection to eliminate friction or impact
Insulating electrical components
Reducing vibrations from machinery
Enhancing grip or traction on various surfaces
Choosing the Right Rubber Strip for Your Needs
When selecting a rubber strip, consider the specific requirements of your application, such as temperature resistance, chemical exposure, and environmental factors. Additionally, evaluate options for adhesive backing and the appropriate strip width and thickness. By carefully considering these criteria, you can choose a rubber strip best suited to your needs.
Conclusion

Rubber strips offer versatile and practical solutions for numerous sealing, padding, and protection applications. By understanding the properties and characteristics of different rubber types, considering adhesive backing options, and identifying the size requirements for your specific project, you can find the ideal rubber strip to meet your needs. With a wide range of possibilities available, rubber strips are an invaluable resource for tasks ranging from maintenance to industry applications.