The kitchen is one of the most important places in our house. It is the place where we spend some quality time and prepare different food items for our dearest ones. Like dining space, bedroom and bathroom, some people prefer to furnish their kitchen with some quality items including home appliances and different kitchen stuff.
Kitchen sinks are an important part of the kitchen. You even cannot think about decorating a kitchen without sinks. Choosing the right kitchen sink is quite important, as it does not only help people washing things but also enhances the overall look of a kitchen. If you are investing in a kitchen sink for the first time, you can read the article as a guidebook that will help you to choose the right sink for your kitchen.
Browse Across the Options
Different types of sinks are available to choose from and you can go with one according to your needs. Sinks are made from stainless steel, solid surfaces, enamel-coated cast iron, and composite. Their price often depends on the material. Homeowners who want a solid surface can opt for stainless steel sinks; as such sinks come with under-mount capacity.
If you are planning to purchase a stainless steel sink for your kitchen, always prefer lower-gauge stainless steel. Remember, stainless steel kitchen sinks can be noisy and therefore you should opt for a design that promotes sound-absorption technology.
Likewise, if you are looking for a smooth and elegant finish, go for enameled cast iron. The material comes with a very hard finish and there will be no noise when water will pour on the surface. It is easy to clean and you can bring its original luster with just a simple wipe.
Composite acrylic and fiberglass sinks can give a more durable finish. Such kitchen sinks come with high quartz content and you can browse across a wide range of colors and designs.
Look Out for The Right Size
Size is an important factor and you have to be careful about this. If you are about to purchase a new sink, then you should be completely sure of your priorities and your preferences. If it is a sink for your new build kitchen, then you can prefer a small, medium or large size in accordance with the space available in your kitchen.
However, if it is just a matter of replacement of an old sink, you have to stick to a particular measurement. In general, kitchen sinks come with three dimensions; they are side to side, front to back and depth. Sinks for the kitchen are available in different sizes and shapes and you can choose according to the available space, kitchen décor, and budget.
Pick the Right Type
Decorative sinks, antique sinks, and bar sinks are some of the types to choose from. Remember, each type has its unique features, advantages, and disadvantages and you have to pick one according to your needs. Decorative sinks will enhance the overall look of your kitchen but you may find it tough to keep it clean. Likewise, an antique kitchen sink can create a pleasant ambiance inside your kitchen.
Choose Faucets Wisely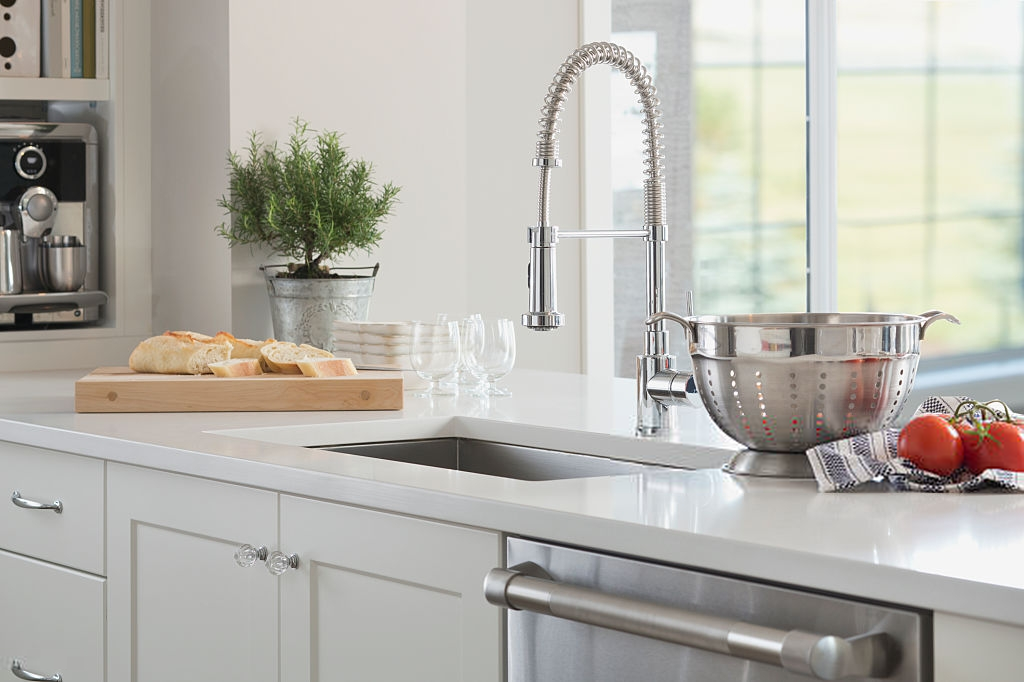 Faucet is an indispensable part of a sink and you can choose the design you want. Here, you can go with your taste when it comes to choosing the best faucet for the sink. Apart from its look, you have to pay attention to its functionality.
The functionality and durability of the faucet will be an important issue here. If you want a durable one, choose a faucet made of ceramic disk and brass base materials. If you have no budget limitations, you can consider additional features like hot water dispenser, garbage disposal and many such things that usually come at a premium.
These are some of the important factors you should keep in mind when purchasing a kitchen sink. Kitchen sinks are something you will not replace every day and that is why you have to conduct some research to get the perfect sink for your kitchen.