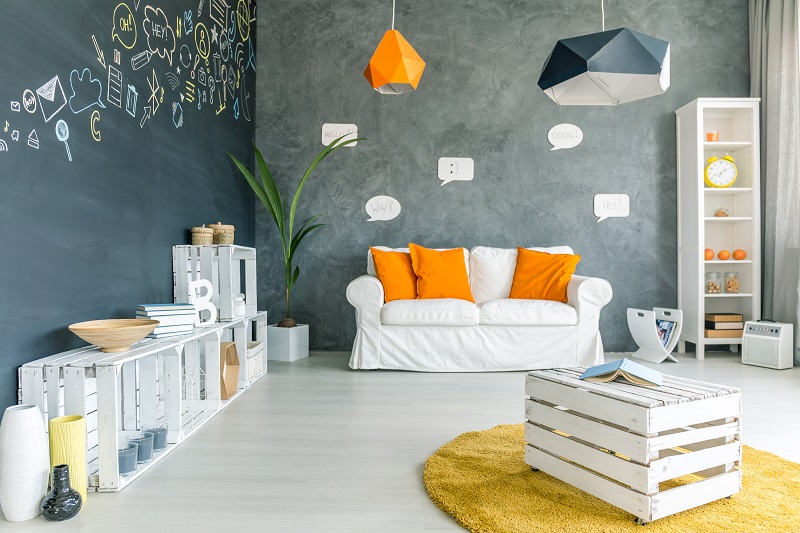 You can make use of old or new wooden crates in such creative ways, which you may never have visualized. You just need a few common tools, which almost every household has. They are nails, hammer, and strong nylon ropes etc. Other items, which you may have to buy, are wood paints and primers, landscaping fabrics, castor wheels, a handsaw, a handy drilling machine, metal wires for fastening, wood stapling machine, etc. Now, you may need any or many of them, as per the project or actually none but the crates.
Why use wooden crates for projects
Wooden crates promise nice support, sturdy structure, and they come cheap for you to try DIY projects at home. You may turn crates into nice furniture or great gardening platforms. You just need to modify some parts, or may even keep everything same, and thoughtfully position the crates to make use of them differently. There is a very rustic and natural look about wood, which you may use for decoration. You may choose to color wood in any way you like, and they look stunningly good in candy colors, light shades, and textured paints. You just need to give enough wind to your imagination while you try some of these great ideas. Here are 5 nice ideas for you.
1. Shoebox: Transform an old or new wooden crate into a shoebox easily. You may apply some paint or leave it in its natural finish. Just keep the crate on ground, facing you like a shelf with the open side towards you, where you may accommodate your shoes. You may keep more than one crate one on top of another or place them side by side. Larger shoes like high heels, and boots, etc. will be placed smartly inside the crates, as there is big space within.
2. Bookcase: Transform crates into bookcase by hanging them on wall. You may hang crates in a line on a wall, and this may be in your study, or above your bed's headboard, or some other place of your choice. You can then keep books vertically as in bookracks. The wood color imparts the most suitable look for a bookrack. You may color the crates white or other color.
3. Pet bed: A crate can be transformed into a pet bed too. If you cut the rails of the crate at one side, and keep the other three sides high, then this lowered side can be used to mount the bed. Fill the inside with cushions and rags to make the bed. Your pet would love it. You may get more creative to write the pet's name on the wooden plank, or hang a bell at a side, so that every time the pet gets in and out, the bell rings in vibration to tell you about the movement.
4. Gardening container: You can transform new wooden crates into gardening containers for organized gardening even in small spaces, or for landscaping your garden. All you need is landscaping fabric to line the insides of the crates before filling them with the garden soil. Then you may plant anything you like. You may keep the crates on ground, or may hang them with appropriate strong ropes and support from ceiling or hoists indoor or outdoor. You may leave them with a primer to protect the wood, or paint them in attractive colors too.
5. Bed side table: Attach wooden or iron legs to a crate to transform it into a bedside table. You may choose to attach castor wheels instead of legs to make it movable. You may use a tablecloth on it, or a tabletop glass, or just leave it like that.
Hence, you can make use of crates in these creative ways and even more.