All of us love decorating our homes but not every homeowner thinks about eco-friendly ideas. A new scenery, a mirror in a new place, or an adjustment in lighting can bring a dramatic change in our homes.
If we bring an eco-friendly change in our respective homes, we're giving our contribution to the betterment of the planet. Thankfully, sustainable furniture, décor items, lights, and many other things are easily available today.
Running out of ideas? Worry not and read below to find some fantastic eco-friendly ideas for home décor: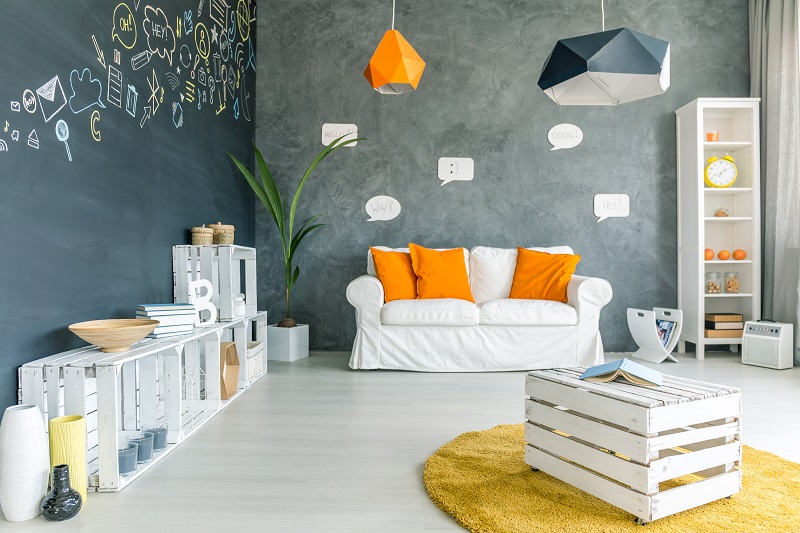 1. Always Purchase Recycled Furniture
Buying contemporary styled furniture is not difficult. We can even purchase it online and get it delivered within a few days, but do we ever think about the material? Rather than durability, we should also think about how the material will impact our ecosystem.
Our choices might destroy our habitat or cause an adverse impact on the planet. Therefore, we can at least reduce waste and go for recycled furniture. Preloved furniture is also available in the market, which is cost-effective too. Just get it polished and you will have furniture with a brand-new look.
You might plan for a minimalistic look but fail to find a matching piece in the preloved category. In this case, buy a few new pieces to complete the look and purchase the rest of the pieces from the preloved stores.
2.Create an Aesthetic Appeal in the Kitchen
Decorating a kitchen is not easy. Especially if there are some visible gas pipes on the walls. Besides this, we need to set the appliances and make sure that the décor doesn't affect our safety.
You can paint the gas pipes in geometric patterns or give them a gold color to give an artistic look. You can even hide them behind the plants. Keeping indoor plants gives a fresh feel besides giving a green look to your home.
For painting, go for natural paint. This paint is made from natural material and is less harmful to the environment. You can also try clay plaster for the ceilings and walls of your kitchen. It has fewer emissions and comes with moisture-absorbing features.
Tip: Whenever you make any changes in your kitchen or any other part of your home, make sure to have a gas safety check performed by a gas safe engineer and obtain a gas safety certification.
These certificates ensure that there is no leakage of gas and that all of the appliances in your home are safe to use. Gas leakages also result in carbon monoxide poisoning, which is harmful to our environment.
3. Purchase Handmade Décor Items
Sophisticated decoration pieces are easily available, but have you ever thought about how much toxic chemicals and pollution factories produce in creating these decoration pieces? Therefore, trying out handmade goods is a safer option.
It's also an ideal way to promote handmade stuff and support small businesses. Alternatively, you can create décor items on your own. Nothing can be greater than the pieces created by you. Watch some DIY videos, purchase material, and give it a try.
You can create dry flower arrangements, decorate mirrors with glitter, or paint some pots. You can also consider painting or sketching if you have an interest in it. Furthermore, watch YouTube videos to learn glass painting and pot decorating skills.
4. Sustainable Tiles and Flooring
When it comes to home décor, flooring plays an important role. Everyone wants to make the living space an inviting place for all. Which is why people look for modern-styled flooring options.
However, if we consider some options like glass, bamboo, and cork, we can have a two-fold experience. These materials look great and are better for the environment too. Above all, they are durable and last for a long time.
Recycled glass flooring is famous for saving energy. These tiles are made from material, which is otherwise contributing to landfills.
5. Never Use Toxic Paints
As mentioned above, natural paint is easily available everywhere. Undoubtedly, we can get a variety of color choices in paint made from harsh chemicals, but these chemicals are very dangerous for us. Especially when we have kids at home, using these paints can cause severe health issues.
One of the most common issues is allergy. Many people have a paint allergy and cannot breathe properly if there is a paint smell. By going for natural paint, you can still make your home look lively and colorful and avoid causing health issues for yourself or others.
6. Maximize the Use of Natural Sources
Have you ever thought about how much light and water we use? In many parts of the world, these things are luxuries. Unfortunately, some people in different countries are deprived of it. If we are gifted with all these blessings, it's important that we use them wisely and save these resources.
For instance, we can adopt measures for saving water. Many luxurious taps and faucets come in water-saving designs. They also add a contemporary feel to the bathroom besides saving water. Likewise, we can also save energy by using solar panels.
We can even let maximum sunlight enter our homes. It will help us save our electricity bills and we will save energy at the same time. For décor, consider using indoor plants. Plants create a healthy environment inside our homes.
When you combine all these natural sources, the result is commendable. You will get a home with sunlight, indoor plants, and modern-styled energy-saving appliances.
Conclusion – Ethical and Eco-Friendly Ideas to Decorate Your Home
All in all, we can decorate our homes in multiple ways and save our planet simultaneously. When the earth gives us so much, we can also give something in return. A little consideration in our choices can have a massive effect on our environment.
Measures like using recycled furniture, buying handmade décor items, and using natural materials are helpful. Furthermore, natural paint, sustainable flooring, and the use of natural resources are great steps.
Don't just adopt these steps but also share them with your friends and family. If eco-friendly home décor becomes a trend, we can change our environment in no time.