There's currently an abundance of TV programs and publications encouraging people to take the DIY route in improving their homes. Surf through cable channels and you may even find a marathon of home improvement episodes.
Social media sharing sites YouTube and DailyMotion are also contributing to this popular trend. Through these platforms, people share their project weekends, their "fit for beginners" process, and, of course, the lovely results of their hard work.
Basically, what all of these do is convince you that everything you need to learn has an "easy-to-follow method" that will "ensure" resounding success. It's not surprising to learn that there's a fast growing community of DIY-ers, and it also wouldn't be baffling if you're thinking of taking a few days off work to embark on a project to beautify or to enhance the function of your home.
Giving It a Second Thought
It all seems great in concept, but a lot of DIY projects tend to be anything but easy-peasy and successful. Even with the right and fancy tools, it's usually impossible to replicate the output of true professionals who have perfected techniques and skills through years of practice.
This isn't to say that all DIYs will have disastrous results – actually, some of them have charming results. They're imperfect, but they're cute and unique. Such results, however, prove that certain home improvement efforts should be left to the pros.
One example is the installation of asatellite dish to get more channels for your TV. Although there are kits available for those that come with a quick to follow manual, and even if there are demo videos online that show a step-by-step tutorial for installation, it's smarter to entrust the task to professional antenna installers for the following reasons:
You can mishandle the system.

You can meet an accident because the ideal locations for installation are usually the trickiest elevated spots within the property.

You don't have a quick and familiar process for taking on the task.

Your body may not be up to the task. Most of the time, it's going to be too late before you discover that you have bitten off more than you can chew.
Advantages of Professional Satellite Dish Installation
The pros know how to find best spot for installation.

They will install the system correctly so you can enjoy a full range of digital free-to-air TV services no matter where you live.

They'll have the system up and running in no time.

They have the right set of equipment to carry out the task in the safest way.

They will identify the best system for you.

Additional services can be thrown in, such as the installation of your wall mount TV.
Other Home Improvement Projects Best Left to Experts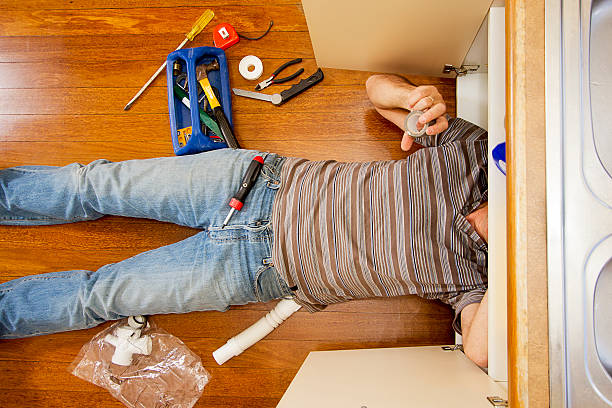 Some of the things that you definitely shouldn't mess with are projects that incorporate plumbing, electricity, or heating and cooling. These are often quite overwhelming, and more importantly, dangerous. These require someone with strong technical knowledge and experience.
Meanwhile, lawn improvement projects (such asbackyard landscaping andpest control) may not necessarily be dangerous tasks to undertake, but if you don't want to spend more money than you intend to, leave them to the experts as well.
You can do without the costly trial and error and you'll get the results you need much faster. With the right professional services, you can make sure that time will work to your advantage.
The Right Decision
Do-it-yourself home improvement can indeed be quite rewarding, but it is rarely easy. It's best not to expect beautiful results, especially if it's your freshman effort for a project. Even if you do your homework and learn from the professionals, there are some skills that cannot be perfected quickly.
The rule of thumb for home improvement projects is that taking the DIY route is completely fine, but if the project is something that you do not want to have to pay for twice, then call a pro to get the job done.