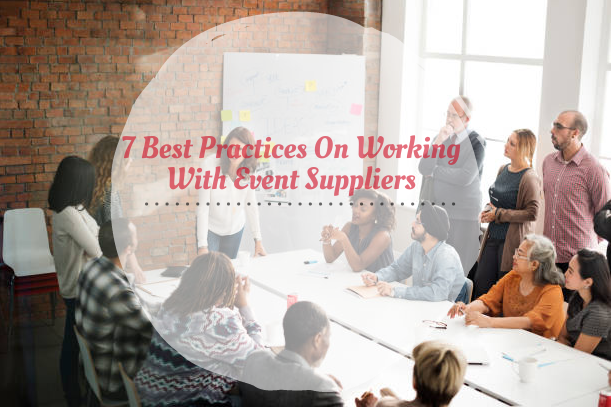 A great event is the by-product of the seamless and successful combination of different key elements: the venue, event plan or blueprint, décor, audio visual technology, food, etc. The failure of any of these factors or their inability to work or blend together can mean a potential disaster and all the money and time you put into the event will just go down the drain.
The Success of Your Event
Large-scale, corporate, and other types of formal events will usually entail working with suppliers for your different needs. This is simply because it is a more cost-effective and less time-consuming option. As such, the success of your event will also rely on the delivery of your suppliers.
If you want to be sure that you will get the most out of your working relationship with your event suppliers, keep the following best practices in mind:
1. Vetting Your Suppliers
The start of your productive and beautiful relationship with your suppliers begins with choosing the best ones first. Whether you're looking for a caterer, a florist, or
audio visual company
, you have to go through the right screening and selection process.
If you're still searching for your event suppliers, ask for recommendations, read reviews about each company online, and interview or at least meet with your shortlisted service providers. Take a look at their portfolios and request for client references as well. Make sure your suppliers are reliable and will be able to deliver the results you are looking for.
2. Communicating Consistently
Most suppliers work with several other clients. Although the best ones will work hard to meet your demands, they won't be able to do this if they don't know what you want. As such, if your supplier sends you an email or calls you up, take the time to send a reply or answer your phone.
In case you have plans of working repeatedly with your suppliers, you can start building a better relationship with them by not keeping them in the dark until you suddenly need a large order. It is best to stay in touch with them on a regular basis for stronger rapport and so that they will always be in a good position to promptly service your business.
3. Being Honest
Aside from constantly communicating with your suppliers, you need to be honest as well. Always outline expectations upfront. Also, inform them about your budget and ask them what you can expect from the amount.
In addition, if you don't understand something, be honest and ask your contact person. Request more details or further explanation regarding the things you feel confused about. Don't go into anything blindly as you and your event will suffer from any misunderstanding or lack of information.
4. Involving the Suppliers in the Planning Process
The success of your event will be the result of your hard work and the collaboration of all your suppliers and service providers. As such, you can ensure that everything will go well with your event if you involve your suppliers in the creative and planning process.
Your suppliers are experts in their fields; your event can, therefore, benefit greatly from their experiences and expertise. They will usually have a lot of unique, amazing ideas that you may not be able to come up with on your own.
In addition, including your suppliers in the actual planning of your event can give them some additional motivation and excitement since its success means their success as well. This will help boost teamwork, with everyone supporting each other to achieve just one goal.
5. Knowing Your Suppliers' Limitations
Your suppliers will certainly want to give you everything you want, but remember to be realistic; they won't be able to meet all your demands, especially the excessive, impossible ones.
If your supplier says that they can't do it or that they highly advise against it, it is best to trust their opinions. Keep in mind that they know more about their industry and, as such, still know what will work best. They will usually have a good and factual explanation behind their advice. Also, they want your event to be a success as well, so always listen to their recommendations.
6. Compromising
Suppliers know that you are working within a budget, and so are they. If the supplier only offers a standard discount, take it; don't haggle too much. Keep in mind that they also have bills to pay and other financial matters to deal with.
Asking for huge discounts and a lot of freebies can put a strain on your working relationship with your suppliers. Whenever you work with suppliers, always practice a little give and take.
7. Having Signed Contracts
Finally, before ordering or purchasing anything from your supplier, make sure both of you have a detailed contract or agreement. The contract should ensure that the supplier will meet all their obligations, particularly in delivery, support and warranty. As a customer, you also need to ensure you deliver on your responsibilities, particularly on forecasts or requests, payments, and communication.
The contract should be as detailed as possible. Both you and your supplier need to understand all stipulations and accept them all before signing the contract. With an official contract, both parties can have the assurance that everyone will gain something from the partnership.
Having a smooth, working relationship with your supplier from the start is often a good sign that your upcoming event will be a success. By developing and following the right habits and practices, you will certainly have a great and productive partnership with your suppliers.
AUTHOR BIO
Hadi Al Rifai specializes in event management and audio engineering and holds a BA in business management from the American University of Science and Technology in Beirut. Before settling down in Dubai to manage
Level Production
, Mr. Rifai has worked with leading national and multinational event management organizations in the Middle East where he honed his AV production skills. Among the notable projects he has worked with are the X Factor and Baalbek Film Festival.