By the term stone wall cladding, we mean a thin layer of stone, applied to a building whose walls are of another material and not similar to stone. Stone wall cladding is sometimes used on concrete or steer buildings as an architectural measure. They also refer to concrete based simulated stone products which are used to reduce cost of building.
Pieces of stone, thin in nature, are cut and then used as is, or they are placed on another material to form strips or sheets. These sheets closely imitate brick or stacked stones. When these sheets are applied to either the interior or exterior of a building, they look like the real thing. Stone wall cladding is available in a large variety of materials and colors and people can easily decorate their home with this process. If you are living in an old home and you need to refurnish your home with some contemporary style then you can do this stone wall cladding on your walls. This is extremely beneficial for your bathroom and kitchen because the stone surface will resist the rust and stains, and you can easily clean them in a normal process.   
6 Advantages of stone wall cladding: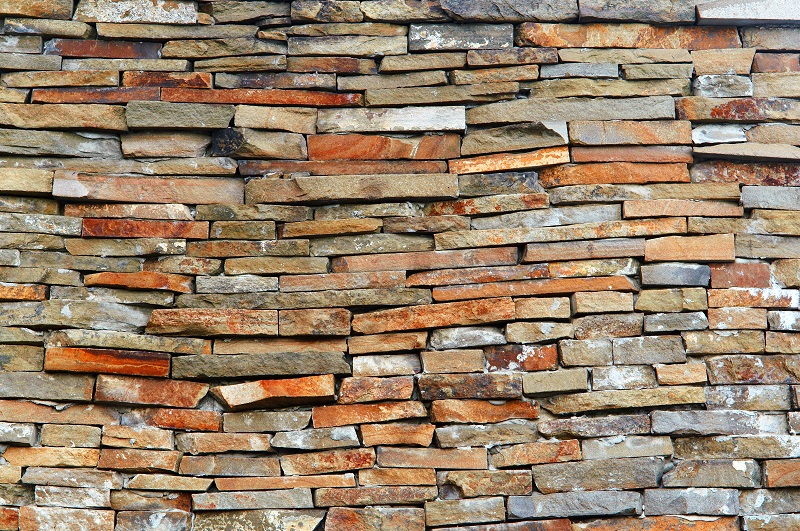 They can be used in architecture extensively to give a natural and warm feeling. Landscaped gardens are also benefitted from stone wall cladding as it gives off a themed appearance, making the area more comfortable and pleasing to the eye.

The carbon footprint of a particular building is decreased by using stone wall cladding. This is because stone wall cladding acts as a great heat insulating layer. It will prevent any kind of heat loss or heat gain from the building.

Stone wall cladding is very high on durability. It can practically last for years without undergoing wear and tear. When exposed to sunlight, it neither loses its luster or color.

Stone wall cladding also acts as an insulator for sound. It provides a barrier between outside sounds from reaching the insides of a building. A lot of music studios and recording studies have stone cladding on the exterior and soundproofing in the interiors to get the perfect acoustics.

Stone wall cladding is very tactile in nature. It is also a fireproof agent and has very low maintenance costs.

Stone cladding is extremely non-porous, and it is also non- absorbent by nature. This material absorbs no moisture, and hence the inner walls are protected from dampness. This largely improves the durability of the building from the vagaries of nature. It can increase the property value and you will get great resale amount for your property in future.
How to do stone cladding?
Stone cladding is best left to professionals who have knowledge and experience in this matter. Ask around the neighborhood, including friends and acquaintances for recommendations. Talk to a few contractors and see what price each one is quoting. Cheapest is not always best. Ask them if they have all the necessary equipment. The checklist includes hatchets and hand grinders, wide mouth nippers and pointing guns, masons trowels and a metal stick. A spirit level, brush and a wheelbarrow, a wood or metal strike tool, an electric mortar mix and a tuck pointer complete the list.  Expect the contractor to give you a reasonable time frame for completion of the job.
When you complete the stone cladding project, you will find that the house looks totally refurbished. For more information about stone cladding, you can search them online and you can get in touch with some reputed contractors in this regard. They will help you to install the stone cladding on your walls and they will decorate your home in a professional way.