Domestic demolition may sound an easy task. But there are several points to take into consideration before that happens as it is not as simple as it appears to be. Here are a few points you need to know before you start: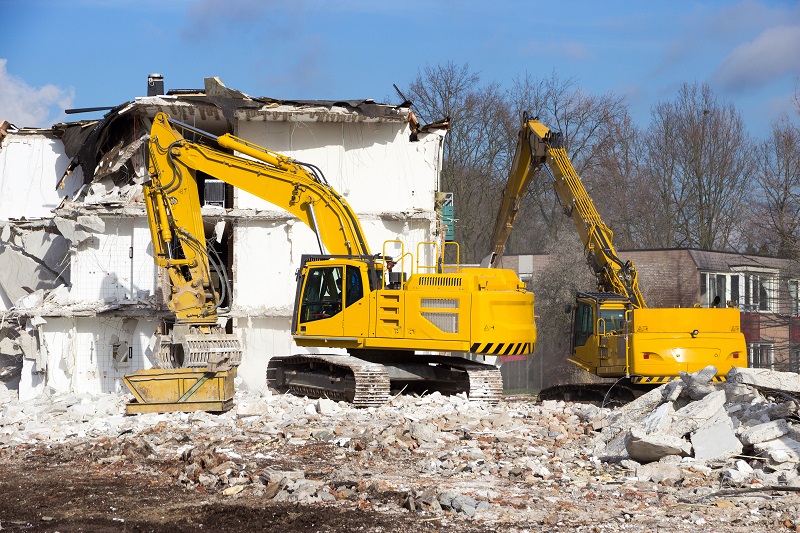 Make sure that you spare a reasonable time for permits before the start of the demolition work. There are several regulatory measures to be taken and you need to comply with certain formalities and above all, obtain a demolition permit.  This might include contacting the state or municipality authorities, the neighbourhood planning unit and sometimes, even the historic preservation board if the location lies under the historical preservation board.

Search for an insured demolishing organization and have a written contract drawn out and ready to be signed with them. Then, you should first verify all the relevant insurance documents or certificates of that company.  It would be the most preferable if the demolition company is underwritten by a licensed insurance carrier.

Do not try to do it yourself unless you are well versed with the how-tos. As straight-forward and cost-effective as it may appear to be, to perform the domestic demolition yourself, is actually a lot like carrying out a surgery. Also, an experienced crew would know what to keep and what to tear-out. In case you are planning to reframe after demolition, the most ideal method is to have the framing crew take on the domestic demolition project as the framers will know best what to retain and it would be easy for them as the accountability chain is direct.

Make a list of all the bodies that need to certify and give approval to your domestic demolition. Apart from that, you need to apply for a permit and pay the required fees and sign some bonds with all those organizations separately, when needed.

You would not know how dangerous a site it. It may be vulnerable to crumbling down easily and also, there can be a lot of dangerous materials. For this, you need to get the site inspected for any hazardous material such as wells, septic tanks, asbestos, and rodents and many more. The problem of asbestos accumulation can be a real big challenge in old buildings in the form of shingles, pipe insulation and so on. Accumulated asbestos can become very dangerous during the progression of domestic demolition, as its fibres can get trapped in the lungs through the inhaled breath and cause breathing problems and sometimes, even lung cancer. The asbestos inspectors locate the presence of asbestos and get it removed by a licensed asbestos abatement company.

All the important utilities like gas, water, sewer, electricity and telephone cables should be disconnected before you plan a domestic demolition. The local authorities in charge of all the domestic demolition projects need a verification of the disconnection of all these utilities to avoid any connection issues to the surrounding residences.

You may want to consider taking a bottle of wine to all your neighbours. The domestic demolition process can create a real commotion and noise along with a lot of dust and debris. This is troublesome not only for you but also for all your neighbours. So, it is necessary that all your neighbours cooperate and that you acknowledge their cooperation and are sorry for the inconvenience you are causing.

While the domestic demolition actually creates a huge rubble of waste, it also contains many components that can be recycled and these should be diverted to landfills where they can be further processed.  Based on the type of material, these can be extracted and separated from waste and then either reused or recycled. Though it is quite a costly process, it is favourable to the environment and so as a responsible citizen of the earth, it is our duty. Many products including bricks, doors, aluminium siding, copper tubing, flooring, concrete can be recycled and so should be extracted from the rubble of waste.
All these points are needful for a smooth domestic demolition process. Well, you can never anticipate the surprises you may encounter while the actual process is going on. But these steps may help you minimize the possibility.