Depending on where you live, there are higher or lower odds of you having a pool. Backyard pools are definitely connected to living standard. The bottom line is, regardless of economic situation, everybody would like to have one. But, the story is much more complicated than it seems at a first glance.
Pools are actually very hard to maintain. Similarly to some other parts of your home or certain home systems, there is a set of rules that you need to abide by so you can properly use your pool. One thing that no one tells you is that they can really dangerous. They are especially hazardous for small children.
Due to this fact, you will have to recognize risks and address them properly. Here are some tips that will help you do it.
As soon as children start walking, they instantly become much harder to control. Even if they are calm by nature, they still tend to get into trouble. During summer, most families (especially those with small kids) tend to stay outside. If you have a large backyard, this will probably be area of choice. Unfortunately, if you have a pool, this can pose a danger. Split second is enough for child to wonder off and fall into a pool. Best way to prevent this is by adding a temporary fence around the perimeter.
Removing electronic devices
Even when we go for a vacation, we tend to bring laptops, tablets and other mobile devices with us. Simply put, it is very hard to disconnect from computers and the Internet. Same goes when you wish to real in your backyard, near the pool. Unfortunately, these devices are really dangerous. The risk increases if you have a small child nearby. Kids tend to poke around too much and you shouldn't be surprised if you child takes tablet or cell phone and wonders off. If they get into contact with water or if they fall into pool, this will not only destroy the device but also can lead to electrocution. But, the things which we introduce to the poolside are not the only source of danger. Sometimes, due to unprofessional work, electrocution can be caused by the pool pump. Wiring and grounding can be bad and it can lead to injuries and even death.
There is a good reason why people talk so much about pool maintenance and cleanliness. Pool and pool area are great breeding ground for microorganisms. Whether they come in form of bacteria or algae, there is no denying that pools are highly susceptible to them due to high humidity. Anyway, both of them can easily lead to skin diseases. In case of algae, they also make the pool deck very slippery increasing risk of falling down. So, if you are serious about getting a pool, you should also be serious about cleaning it.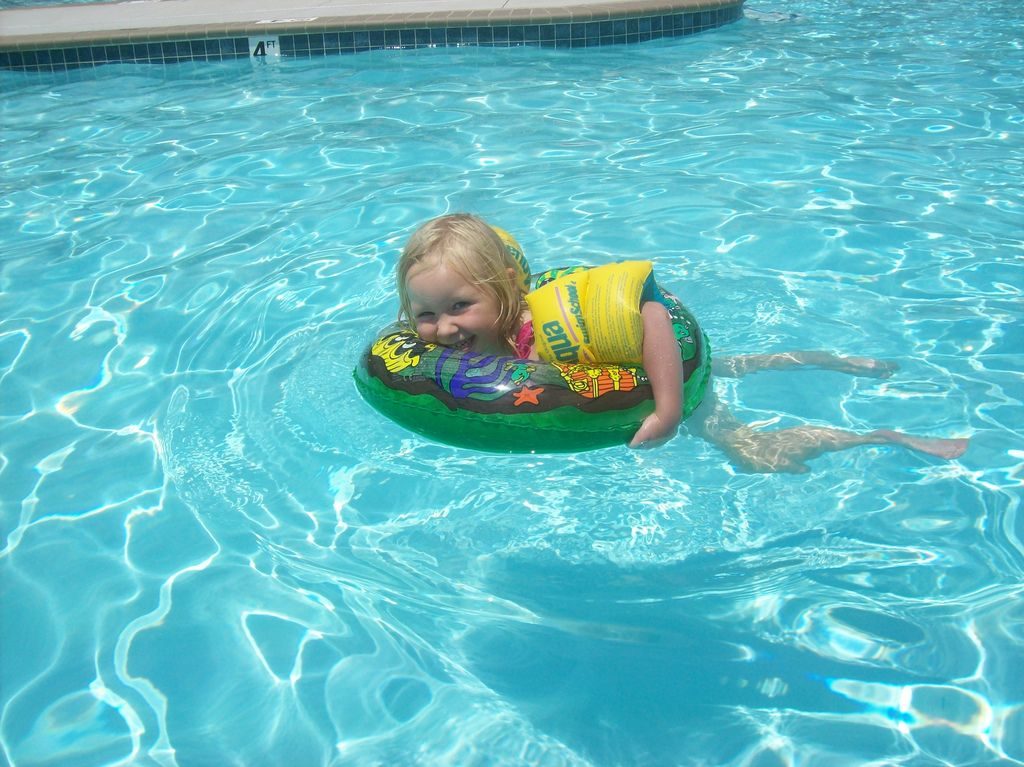 You should be very careful when it comes to pool accessories as well as any other items which may find its way to the poolside. For example, kid's toys can be really dangerous as they increase clutter in already slippery and dangerous area. In fact, most of the pool products which are labeled as "for kids" should be avoided.  Goof example is pool slide. Although it may seem as a good way to surprise your kid, pool slide can be really dangerous and lead to cuts and bruises. Same goes for diving board.
Pool worries do not stop after constructing one. Similarly to your car or some other parts of your home, pool requires constant maintenance and a lot of investment. Otherwise, small negligence or mismanagement can lead to serious injuries to your child.