While building a house, it is necessary to use best elements possible. One must be careful while using products so that it can survive any season or any calamity. The most important thing while building a house is to use sturdy yet eco-friendly products for the outer side of the house such as roofing and walls. The reason is outer part of the house survives the different weather, dirt and pollution.
While hiring the roofing professionals, you can choose from various designs like cool Roof and Green Roof which are two of the most popular varieties of roofing that are comfortable in all seasons, especially in scorching summer.
What is Cool Roof? How does it benefit your home?
Cool Roofs are made of such material that reflects the sunlight. These types of roofs do not absorb the sun heat rather reflect it and cool down the building. With cool roofing, despite having different colors, you can get rid of scorching heat during summers in India.
1. Benefits of Cool Roof
It helps mitigate climate change effects. Whether it is summer or winter, cool roof helps to maintain a steady temperature inside the building.
In the time of summers, it helps the building to cool down. Urban areas produce a high level of carbon and smoke that pollute the air. Cool roofs are helpful to lowering the effects of urban heat as well.
It helps to reduce the effect of smog and high temperature.
As mentioned, cool roofs make the inner side less hot, it helps saving energy. Using such roofing lets you stop using the air conditioner during day time.
2. What is Green Roof?
Green roofs are said to be the rooftops where you can grow different varieties of vegetation. At present, in a large number of metropolitan cities, due to global warming and increase in pollution, many residents of large housing complexes are opting for green roofing to ensure coolness and protection of the building from sun's heat. Green roofs have thin soil layers, drainage system, irrigation system and vegetable plants. These layers not only help the plants to grow but also help the inner parts of the house to remain cool during day time of summer.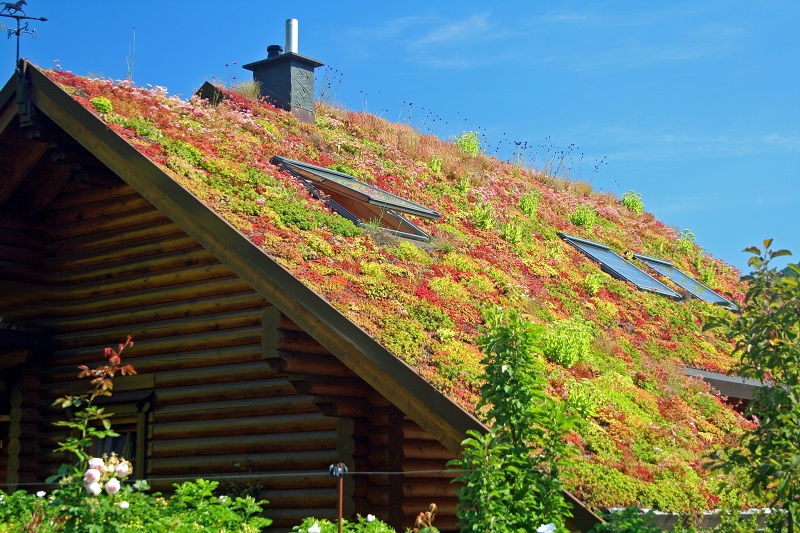 3. Benefits of Green Roof
As people know that green roofs are living vegetation roofs, they help you to cultivate green and fresh vegetables.
On the other in the green roof system, water drainage and water membrane are installed. This helps the roof to get rid of extra rain water during monsoon.
These types of roofs are sturdy, best quality and have high-quality water resistance power, unlike other conventional roofs.
The plants absorb the sun heat for photosynthesis process; therefore, the heat cannot affect the building surface.
It is energy saving as well. As the heat cannot hit the surface, it lowers down the use of air conditioner or cooler at home during day time.
4. Cool roofs vs. green roofs
When it comes to roofing, it is necessary to use the best possible material. Both the roofs, cool and green are proved to be helpful for any building or house. In Europe, people have been using green roofs for last 30 years. It not only saves energy and protects your home and members of your home from sun heat but it is also helpful for growing vegetables, so different versions of green roofs are preferably more popular among people from all areas of the world.
On the other cool roofs are in demand too as they do not need many technical layers like green roofs hence incurred fewer costs. In Cool roofs, you can go for the material, your favorite color and installation process.
There are many professionals who are available for roofing installation process. You can consult with them to get the quotes.